Mission Accomplished with a Doppelganger
"I need your help with my Mom."  It was a text message from a friend's daughter, Toni (not her real name). I called Toni immediately.  I could sense how exhausted, anxious, and scared she was. Someone in need of help is the lifeblood of the work we—Aging Life Care Managers™–do.
I've watched Toni grow up. She is the epitome of success.  It is the kind of success that we all wish for every young person we've watched grow up.  But, it's her role as her mother's caregiver that she can no longer handle.
Toni fits the profile of the typical family caregiver.  She's in her late forties, a mother, a wife, a sibling, a daughter, and a professional whose career plays out on an international stage.  Against the backdrop of the pandemic, the organization that she heads as CEO is relocating.  So, Toni must search for housing, schools for her two sons. And yet, with all that – the help that she needed was to figure out relocation for her mother.
That's when I got Toni's call.  She was familiar with the work that I did, but she never knew exactly what that entailed; most people don't.  Toni explained how overwhelmed she was trying to sort through it all.  So, without hesitating, I assured her that relocating her mother was one thing that I could take off of her plate.  I was confident that a move from Georgia to the Washington, D.C area with all the financial, health/medical, social, financial, and legal matters that had to be addressed was possible.  But, I would need a partner.
To get started, I checked the ALCA website and sent an e-mail to every Aging Life Care Professional® within miles from the small assisted living home in Atlanta where Toni's mother lived.
By chance, I had another client family with ties to Atlanta.  I was in the midst of finding an assisted living community in the Washington, D.C. area for that client who had a house in Atlanta where she could no longer live by herself.  That client was already in Washington, D.C. temporarily living with her daughter, until I could identify an appropriate living arrangement for her.  This client's daughter needed her mother's Atlanta house, downsized, contents packed and shipped to D.C. and the house put on sale. And the daughter assumed that she had to get it done by herself.
I was confident that there was a way to help both families, both with a connection to Atlanta and Washington, D.C.
The benefit of my ALCA membership paid off in a huge way.  I sent e-mails to colleagues in Atlanta, based on their profiles on the ALCA website.
Tracy Johnson, Founder/CEO of Premier Care Management of Georgia (PremierCMGA) answered my e-mail, almost immediately.  We had several conversations and I explained what I needed for both clients. She assured me that her company could "fill the bill."  And fill it they did!  Fellow ALCA member, Janet Townsend, a senior associate of PremierCMGA was the "me" (Irene V. Jackson-Brown) in Georgia for Toni's mother's relocation.  And Susan Phillips, a Senior Move Manager at PremierCMGA would handle getting the other client's mother's house cleared out, contents packed and shipped, staged for sale, and coordinating all with the realtor.
Janet, the Atlanta care manager, turned out to be my professional doppelganger. We forged a glorious partnership.  We held hands, even though we were miles apart.  We tackled all of the details that accompany a relocation for someone who requires care.  We both knew exactly what had to get done and how to go about the work.   It was a partnership seamlessly forged.  Why? We worked from the same playbook, ALCA's Standards of Practice, and our certification as Aging Life Care Professionals.
There wasn't any aspect of the work where translation or explanation was needed between Janet and me. Janet accomplished all of the tedious legwork at the Georgia end. And I concentrated on the assisted living community where my client was to live.  Janet was able to establish rapport with Toni's mother in a short time.  The rapport made all the difference and added to the success of the relocation.  Janet paid attention to personal care needs and anticipated items that Toni's mother would need such as a new cell phone and ID.  Janet enlisted allies all along the way.  Janet worked with the owner of the assisted living house where Toni's mother had been living for several years to get documents for the relocation.   Janet managed and coordinated appointments and trips to various doctors.  She took care of it all.  No gaps were left unfilled at the Georgia end.
The work had been done and it was time to determine how best to travel.  (Toni, my client's daughter had been anxious at first, assuming that she would be responsible for driving her mother to Washington, D.C. from Atlanta.  I assured her that travel details would be worked out and that she would not have to take this one.) Janet and I both had lots of experience flying with family and clients who required assistance, so we both knew the ins and outs of travel with a person with a disability.  But, Janet convinced me that flying from Atlanta to Washington, D.C.was better than taking the train, which I suggested at first, even knowing better. Janet was the level-thinker!  Even though I was prepared to fly down and get my client, Janet offered to fly up with our client and do a "handover."  This is real cooperation and made the most sense.
With the travel plans made by airplane, I made another call to Premier and asked if Susan Phillips, the company's senior move manager, who was working with my other client on the Atlanta house clear-out, would pack and send all of our client's belongings, ahead of my client's arrival to her new home. I didn't want Janet or our client to contend with luggage and stuff at the airport nor did I want to deal with luggage at the receiving end. Sending belongings ahead to the assisted living was another smart move. And again, Toni, my client's daughter was relieved because she assumed that she would have to pack and send.  I assured her that we would handle that, also.
Susan packed and sent everything.  The relocation was relatively stress-free.  I had already arranged with an assisted living home in the D.C. area to accept my client.  I was confident that the fit would be a good one.  I had a long relationship with the AL home and knew that my client's needs and personality would be a match.  And because of my long-standing relationship with the AL's owner, a retired nurse, every detail was checked, re-checked, and finally checked-off.  Done!  All completed, ahead of my client's move-in.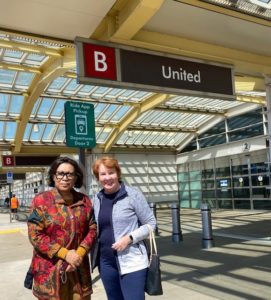 Finally, after months of planning and work, Janet and my client arrived at Reagan Airport in Washington, D.C., on time. When I caught sight of Janet and my client, I gave out a big "whew!" We all hugged, forgetting in that quick moment about social distancing.  Before returning to Georgia, Janet had one wish . . . to see the cherry blossoms.
I was bound and determined to grant Janet her wish. After loading up the car, we drove past the cherry blossoms and Janet was able to take pictures from the car.  We dropped Janet back at the airport.  We took more pictures. And said our goodbyes.  Mission accomplished, but only with a doppelganger.
About the Author: Irene V. Jackson-Brown, Ph.D., CSA, CMC, CDP has been a member of ALCA since 2005 and speaks, educates, writes, and consults about aging issues thru her Washington, D.C.-based care management company Jackson-Brown Associates, LLC. Her book, Eldercare as Art and Ministry is a practical guide through the maze of eldercare.