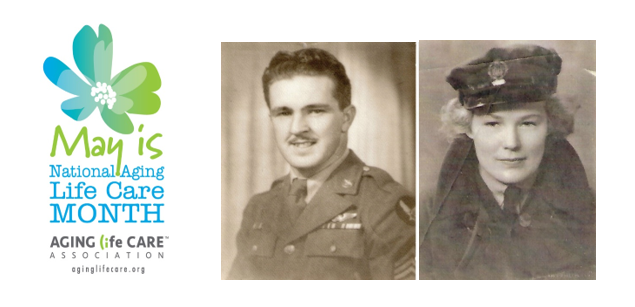 They met during WW2 – he, a handsome Yankee flyboy; she, a Morse Code operator for the Women's Australian Air Force.  He was fascinated by her flaming red hair and beauty; she was attracted to his bravado and good looks.  They married and he moved her from the sunny shores of Terrigal, NSW, to northern New York.  Through the years, they were true to each other and to their growing family – through the good times and the bad, they had a love that never failed.  They were always together, even later in life as their health failed, and they received the tender care of their daughter.  Friends, family, and church members came to visit their home and enjoy their laughter and love.
As they aged, their daughter (my sister) reached out to me—a Geriatric Care Manager (aka an Aging Life Care™ Manager). In my role, I advocated for services, provided information and advice on personal care, and provided oversight on medical care. With her time freed up, my sister-the-caregiver looked to me for daily advice and help with dealing with their dementias, and could concentrate on loving them both to the end.
About the Author: Carolyn Michaelis-Moe, BSN, MPA, has an extensive history in the health care profession.  She earned her Bachelor of Science in Nursing from Columbia Union College.   She also earned a Master of Public Administration with a focus on Health Care Administration from Golden Gate University, San Francisco.  Carolyn has worked in Home Care and Hospice for many years, and it was there that Carolyn identified many needs of her patients that were not addressed by Medicare reimbursed programs.
In 1992, Carolyn founded Parent Care Management Services, evolving into a team of professionals, consisting of Registered Nurses, Gerontologists, and Social Workers, as well as experienced administrative assistants who all work together to take care of any and all details of their client's lives. As CEO of Parent Care Management Services, Carolyn brings an extensive amount of knowledge & understanding of the field of geriatric care management.
In 2009, Carolyn earned a certification from the National Academy of Certified Care Managers.  Carolyn Michaelis-Moe values memberships in the Aging Life Care Association™ (formerly the National Association of Professional Geriatric Care Managers), Inland Association for Continuity of Care, and Inland Empire Estate Planning Council. Carolyn is a past President with the Western Region of ALCA.  Parent Care Management Services Inc. offers internships to students from Loma Linda University and other local universities, providing them with multiple learning experiences.