At Aging Wisdom we are guided by a set of values that are naturally woven into our company culture and our work as Aging Life Care Professionals®: Integrity. Professionalism. Compassion. Collaboration. Service to our clients and our community.
While each value is precious and essential, it is often through Collaboration that we experience incredible serendipity and magic. It starts with our team and it's the foundation of our teamwork approach to supporting and guiding clients.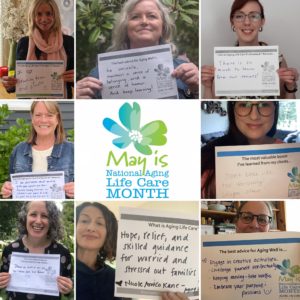 Teamwork
In our work as Aging Life Care™ experts (also known as Care Managers), we know that no one person has all the answers. Our clients often have complex needs and health issues. Our team meets regularly. We trust one another. And when one Care Manager is navigating complexities on behalf of a client, asking the collective for insight always results in more options, a sharpened perspective, and better outcomes.
Allied Professionals and Community Resources
The expertise of Aging Life Care Professionals can be summarized into eight core knowledge areas: Health & Disability, Financial, Housing, Families, Local Resources, Advocacy, Legal, and Crisis Intervention. [See the 8 Knowledge Areas Graphic to the Right]
We work with allied professionals we trust on behalf of and with our clients, such as elder law attorneys, home care agencies, long-term care housing providers, and financial advisors. These allied professionals provide expertise in areas that impact our clients. Together, we offer a warm embrace of support that enhances a client's well-being and quality of life.
Professional Association
We have developed relationships within our professional association, the Aging Life Care Association® (ALCA).  Through our membership and volunteer work in ALCA with our Local Unit group, the Western Region Chapter, as well as ALCA committees and board service, we often collaborate with Aging Life Care Professionals (ALCPs) in different parts of the country who are located in an area where a client has family or will soon be moving to be closer to loved ones. We also benefit from the collective wisdom and support of other professionals, dedicated to building awareness about our profession.
Corporate Partners
Another benefit of ALCA membership is the relationships that naturally develop with Corporate Partners.  ALCA Corporate Partners are industry supporters whose products, services, and resources make our work as Aging Life Care experts better, stronger. In our role as coordinators and navigators of client care, we value our collaborative work with these partners.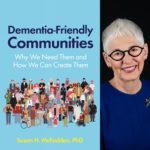 A recent example is the Dementia Society of America (DSA). Founder and President Kevin Jameson reached out to me via email to explore how the DSA could help co-promote a virtual author presentation about "Dementia-Friendly Communities" of which Aging Wisdom was a co-sponsor and I was the facilitator. I appreciate that Kevin took the time to get better acquainted with this program, our role in it, and how the organization he founded could help build awareness about Dr. Susan H. McFadden's wonderful book and this conversation.  Over 300 people from around the world registered for this program.
The mission of the Dementia Society of America is "To enhance the quality of life for those living with Dementia, caregivers, and the community!" This is such a beautiful complement to our work as Aging Life Care Professionals and our collaborations with others. "Collaboration" fits with Older Americans Month as well; this year's theme is Communities of Strength, celebrating "the strength of older adults and the Aging Network, with special emphasis on the power of connection and engagement in building strong communities."
The spirit of teamwork, the value of collaboration, and the power of connection work together and strengthen our ability to better support our clients, their families, one another, and our communities.
About the Author: Contributor Keri Pollock directs marketing and communications for Aging Wisdom, an Aging Life Care® practice based in Seattle, Washington. She serves on the Frye Art Museum Creative Aging Advisory Committee, is a member of the Aging Life Care Association PR Committee, and the Age Friendly Coalition for Seattle and King County, WA.