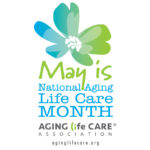 This May the Aging Life Care Association celebrated its 10th annual Aging Life Care Month, while acknowledging the Administration on Community Living's Older Americans Month celebration. Aging Life Care Professionals have always been a part of the continuum of care for older adults—and part of the "Community of Strength" for aging loved ones and their families. This past year, ALCA members came together during the COVID-19 pandemic, demonstrating how this association's members support one another, much as we support our clients.
Starting my term in January 2020 as Board President, I reflect with sincere gratitude and humility on all the contributions ALCA members made to our association, to each other, and to me, genuinely demonstrating ALCA's "Community of Strength." When I took the reins, I had no idea the virus outbreak we were hearing about in China would become a concern for us here in the United States.
And yet, news and the virus quickly made it apparent that like the rest of the world, we were going to need to face this growing pandemic.
When the outbreak hit in Seattle, Wash., we quickly developed a Zoom-based "Member Forum" for ALCA members and partners. Our 2019 Board President and Seattle resident Lisa Mayfield offered a firsthand account of what was happening and how she, and other Aging Life Care Managers, were pivoting their practices to ensure continuous care for clients, whether at home or in a long-term care facility.
'IN 2020 THE ENTIRE COMMUNITY OF ALCA MEMBERS DESERVED THE PRESIDENT'S AWARD.'
Members quickly volunteered to lead other Zoom forums on COVID-19, health and safety measures, business pivoting, outreach to families and other topics that were once unimaginable.
Like many other associations, we also pivoted and for the first time held our annual conference virtually.
As the pandemic wore on, and people nationwide were grappling with daily updates, our members— whether in the same regional chapter or across the country—worked hard to support one another, share best practices and tips on "PPP" and "PPE."
We increased Member Forum frequency, had lively Listserv conversations and even found a way to celebrate our Association's 35th Anniversary at our first virtual conference.
Though we had hoped to celebrate in person in 2021, in April ALCA held its second virtual conference. One special conference moments each year happens during the annual business meeting when we honor and celebrate outstanding leaders and members in the Association, and among our chapters and corporate partners.
ALCA presidents bestow an award to someone of their choosing who has had an impact during their year of presidency.
An unconventional year called for an unconventional President's Award. Reflecting on the outpouring of support from our members, my list of candidates included so many members who shared their time, experience, expertise, company protocols, products, services and more—all to help us remain safe, continue to serve our clients and their families, and pivot our businesses to remain relevant in the changing world. In addition to the pandemic, 2020 was marred by the elevation of the systemic racism that plagues our society and required action from our Association, which values inclusivity and justice.
As my list of members grew and grew, it hit me that in 2020 the entire community of ALCA members deserved the President's Award.
Outstanding Members Show Strength in Numbers
Here are just some examples of how our outstanding members demonstrated how ALCA is truly a "Community of Strength."
Lisa Mayfield (2019 ALCA Board President) shared her first impressions of COVID-19, as the virus swept through a Seattle nursing home, to help prepare the rest of us for what we knew was headed to our communities.
Anne Sansevero (2020 Board Member and 2021 Treasurer/Secretary and New York Chapter President) shared how to protect ourselves when NYC was consumed with the virus.
Member Trish Colucci Barbosa shared her company protocols.
Nina Herndon (Board Member) offered her company's expertise in meaningful engagement while our clients were quarantined.
Deb Fins (Adele Elkind Honoree, Former Board Member) and Debra Feldman (2020 Treasurer and 2022 Board President) showed relentless support and attention to the details of all things ALCA.
Countless members shared resources regarding securing PPP monies and where to purchase appropriate PPE.
Jennifer Pilcher and Jennifer Szakaly (Chapter Presidents) led Zoom forums for members dealing with schooling your kids at home while caring for others.
Member Brenda Shorkend led Zoom forums and much needed support for solo practitioners.
Another member shared her personal story of contracting COVID-19 while escorting a client to a medical appointment and then being blamed by the facility for its outbreak of COVID-19.
Kelli Edwards (ALCA Conference Co-Chair), my competitor and good friend, always supported my efforts in leading ALCA.
Linda Cramer, who has been my mentor for 20-plus years, helped me keep the Florida Chapter and national goals aligned.
Member Lina Supnet-Zapata shared her personal challenges after the horrific murder of George Floyd. Member Irene Jackson-Brown educated us in cultural competencies and led board training in this area.
Members Kizzy Chambers, Crystal Littlejohn and Abbe Udochi brought their personal experiences and knowledge to improve our efforts in the Diversity and Inclusion Task Force.
Corporate Partner Cathy Cress connected us with her students of color who offered a unique perspective looking from the outside-in on how we might improve our Association.
The Webinar Committee offered educational opportunities that helped us think through how we might serve underrepresented populations and improve our sensitivity in serving minority clients.
Gladys Harris, Bob Bacheler, Allyson Stanton and others regularly attended Friday Forums to finish off yet another long week, where we tried to keep ourselves and clients safe and our businesses afloat, while finding bits of humor as we let off some steam.
The Listserve posters who shared their expertise and resources so generously.
Connie McKenzie (Board Member and 2021 Board President) offered her calm, thoughtful encouragement.
Anne Recht kept me updated on the countdown of days left in the year.
Members' ability to debate what it means to be an "essential worker" and recognize (and celebrate) the uniqueness of our practices.
The endless Zoom forums where members could be vulnerable and ask specific questions of each other on best practices to mitigate the risk of the deadly virus.
So many of my Florida Chapter colleagues for reaching out and offering their support.
My staff (and all ALCA members), who never quit during the most trying year, both professionally and personally, and especially in finding new ways to effectively serve our clients.
The year 2020 truly was horrendous for so many reasons, and I would have never made it through without my friends and colleagues from ALCA. Last year taught me the importance of our membership and the value of community, and how our similarities and differences align in ways I would have not thought possible. The actions of our members demonstrated the power of the ALCA membership and how we truly are a "Community of Strength."
This blog post also appeared on the ASAging Generations blog.
About the Author: Liz Barlowe brings more than 25 years of experience in the aging and disability field.  With Barlowe & Associates, she provides direct Aging Life Care™ management services as well as consults with businesses to ensure the standard of Aging Life Care™ management excels. Previous to owning her own aging life care company, Liz was Vice President of Operations for a local care management company for 10 years.  In addition, she was the founding administrator of a private duty, state licensed homecare company.  Her leadership grew both entities to become successful statewide and nationally recognized industry leaders.  Prior to this Liz served as Executive Director of an assisted living facility designed for individuals with Alzheimer's disease and related dementias.  She has additional experience in managing traditional assisted living facilities, mental health, and non-profit senior service agencies. She was the Board President for the Aging Life Care Association in 2020.