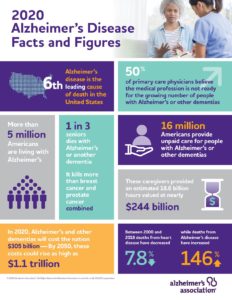 In the U.S., more than 5.8 million people age 65+ are living with Alzheimer's disease and over 16 million provide unpaid care for people living with Alzheimer's and other dementias.
Aging Life Care Professionals regularly work with clients living with Alzheimer's and other dementias, and, as part of their membership with the Aging Life Care Association, they continue to educate themselves to remain experts in aging well.
They follow developments such as what Dr. Maria Carrillo, Chief Science Officer at the Alzheimer's Association, shared in a recent presentation — Advancing the Science: The Latest Discoveries in Alzheimer's and Dementia Research – which provided promising insights. Carrillo's presentation came on the heels of the Alzheimer's Association International Conference® 2020 (AAIC®), the largest and most influential international meeting dedicated to advancing dementia science.
"This is such a hopeful time. Research is getting us the answers we are looking for, though we are confronting a very complex set of diseases under the umbrella of dementia," said Carrillo, providing an overview of the latest research advances in prevention, detection, diagnostics, and therapeutic interventions.
AAIC Research Highlights
Early Detection, Diagnosis and Finding a Cure
Biological markers, or biomarkers, help researchers measure change in the body and are accelerating the speed of research.
Two biomarker hallmarks of Alzheimer's disease are amyloid plaques and tau tangles. A promising blood test in development detects p-Tau217, the tau specific to Alzheimer's, at a low cost and possibly up to 20 years before symptoms occur.
Biomarkers can assist with early detection and diagnosis. This in turn can help individuals prioritize their health, possibly delay or slow disease progression, plan ahead, and become eligible for a wider variety of clinical trials to help advance research.
Bill Gates, Jr., who recently lost his father to Alzheimer's, has joined fellow philanthropist Mikey Hoag to help fund the Alzheimer's Association "Part the Cloud" global research program. This partnership is funding sixteen neuroinflammation research studies. You can learn more at alz.org/speed
While age, family history, and heredity are risk factors we can't change, research reveals clues to other risk factors we may be able to modify: lifestyle, cardiovascular health, physical activity, diet, sleep, social/cognitive engagement, education, and traumatic brain injury.
A two-year clinical trial, the U.S. POINTER study is currently underway. This study evaluates whether lifestyle interventions – specifically physical activity, cognitive and social stimulation, healthy diet, and health coaching – that simultaneously target many risk factors, protect cognitive function in older adults who are at increased risk for cognitive decline.
Drug Trials and Approvals
In 2020, the largest number of drugs in the Alzheimer's clinical trials pipeline are treatments that prevent or slow down the loss of function. The developer of an anti-amyloid therapy to treat mild cognitive impairment (MCI) due to Alzheimer's and mild Alzheimer's, is seeking FDA approval. Researchers reported a reduction in clinical decline, benefits on cognition and function, and a reduction of amyloid/tau biomarkers. FDA approval is anticipated March 2021.
Flu and Pneumonia Vaccination
New research presented at AAIC 2020 suggests flu and pneumonia vaccines may be associated with a lower risk of Alzheimer's. One study found a single flu shot was associated with a 17% lower prevalence of Alzheimer's, while another study reported that for people between 65 and 75, a pneumonia vaccine reduced the risk of Alzheimer's by 40%. More frequent flu and pneumonia vaccinations were associated with an even greater risk reduction.
"These new findings make an even stronger case for the potential of behavioral interventions throughout life to reduce risk of Alzheimer's and other dementias," said Carrillo.
Without effective treatment or cure, the impact of Alzheimer's will continue to rise. Until there is a cure, Aging Life Care Professionals® will continue to serve as key supports, helping individuals and families navigate the psychosocial, emotional, and financial challenges associated with a dementia diagnosis.  We take a holistic, client-centered approach to caring for older adults or others facing ongoing health challenges. CLICK HERE to find an Aging Life Care Expert in your area.
About the Author: Keri Pollock is director of marketing & communications for Aging Wisdom, an Aging Life Care® practice based in Seattle. She serves on the Alzheimer's Association Washington State Chapter Conference Advisory Council, the Age Friendly Coalition for Seattle and King County, and the Frye Art Museum's Creative Aging Programs Advisory Committee.