November is National Family Caregivers Month and National Alzheimer's Disease Awareness Month.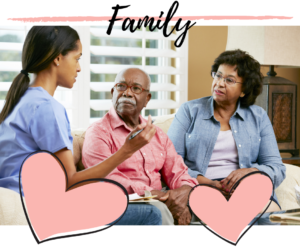 These observances help raise awareness about the challenges of caregiving for families, especially Alzheimer's caregiving, as well as increase support for and educate caregivers and their communities. The current COVID-19 pandemic has also presented new realities and stresses.
According to the Centers for Disease Control and Prevention (CDC), more than 5.8 million people age 65+ in the U.S. are living with Alzheimer's disease and more than 16 million family members and friends who provide uncompensated care for people living with Alzheimer's and other dementias.
What is Alzheimer's disease? The Alzheimer's Association defines is as "a type of dementia that affects memory, thinking and behavior. Symptoms eventually grow severe enough to interfere with daily tasks." In the early stages, one common symptom is difficulty remembering newly learned information. While we all experience occasional challenges with recall, someone living with Alzheimer's might experience this with more frequency as the part of the brain that supports learning is impacted. Alzheimer's disease is progressive and continues to change the brain.
Aging Life Care Managers® are in a unique position in their direct work with families, helping them to anticipate, understand and manage the emotional, mental, financial, and physical demands of caring for someone who is progressively losing the ability to care for themselves. Aging Life Care Managers also help families care for themselves while they care for their loved ones.
"As Aging Life Care Professionals®, we honor the many family members and friends who provide care and support to individuals living with Alzheimer's and other dementias. Through our work, we understand why Alzheimer's is called a family disease. We have an intimate view of the stress families experience and the challenges they face as they care for a loved one," reflects Lisa Mayfield, founder & principal of Aging Wisdom, an Aging Life Care practice based in Seattle, Washington, and past president of the Aging Life Care Association (ALCA). "Our holistic, client-centered approach to care provides expert navigation and answers at a time of change and uncertainty."
Aging Life Care Professionals regularly work with clients living with Alzheimer's and other dementias, and, as part of their membership with the ALCA, they continue to educate themselves to remain experts in aging well and caring well.