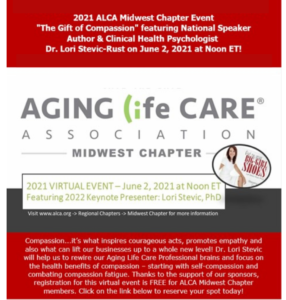 After the last year and a half of living with a pandemic and beginning to see the signs of improvement, I was more than ready to listen to the June 6th virtual event by Dr. Lori Stevik Rust, "Compassion is a Gift." As Aging Life Care Professionals in the human service field, most of us would say we are "compassionate" with our clients and families.
Dr. Stevik Rust pointed out that most people are in favor of offering compassion to others, but less able to offer self-compassion, and reminded us that self-compassion is a gift we bestow on ourselves (e.g. Put on our own O2 mask before helping others.)
She shared a poignant story of her first case during the Aids epidemic in the 80's and how unprepared she felt. Her uncertainty led to self-criticism and the fight or flight response. She reminded us that the antidote to self-criticism is self-compassion (recognizing we are not perfect) which results in authenticity.
Self-compassion makes authenticity possible. According to Dr. Stevik Rust, research has shown that people who practice authenticity are more successful, resilient, motivated, emotionally stable, accountable, and better leaders.
Compassion Fatigue was discussed which can result in low energy, guilt, anger, self-isolation, feeling burdened, poor self-care, or denial of symptoms as well as the risk for post-traumatic stress disorder in ourselves and others. She asked us to acknowledge and have enough self-awareness that things might be escalating with compassion fatigue and to stop and say "it's ok to take a break and care of myself."
Easy quick self-care options were shared: massages, sexual activity, laughter, music, bubble baths, journaling, exercise, reading, etc. These can all help reduce the stress hormone cortisol.
While much of what she shared was not new information for those of us in the field, it was a good reminder of the importance of self-care for the 50 attendees.
I came away being impressed with her warm, engaging manner, and as one attendee said, "I love the fact that you present in a non-saccharine fashion. Very authentic and honest."
About the Author: Susan Wack started SW Professional Care Management, LLC (SWPCM) in 2007 after working for over 20 years in hospitals, home health, disability services, and long-term care. She is a Certified Advanced Social Work Case Manager (C-ASWCM) and a Licensed Clinical Social Worker (LCSW). Susan received her Master's Degree in Social Work (MSW) from the University of Iowa and her Bachelor's of Science in Social Work (BSSW) from St. Louis University. She is a member of the Academy of Certified Social Workers (ACSW), the National Association of Social Workers (NASW), and the Aging Life Care Association (ALCA). Susan provided training on Elder Care Mediation to attorneys and social workers in Indiana, and serves on ALCA's Midwest Chapter Board of Directors.