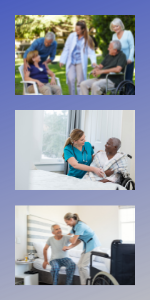 When families have exhausted other options sometimes the decision is made to move an older loved one in a skilled nursing facility.
This decision can be made easier with more information that an Aging Life Care Professional® — certified professionals with degrees in geriatric care management, nursing, social work, or other professions related to aging — can offer, and sometimes even be avoided.
Usually, this decision is made under stress, without much time, and/or without a lot of information. You do not need to do this alone. Having a partner in this process, i.e. a professional who can help guide, support, and facilitate a good move to the best possible skilled facility is critical.
Aging Life Care Professional® and ALCA Board Member Steve Barlam offers advice for families considering a skilled nursing facility (SNF) for their loved one.
Questions to Consider
…to Help in the Selection Process.
When considering a skilled nursing facility, there are gross and fine screening issues to look at.
Let's take a look at the gross screening considerations first: 
Gross screening
…has to do with basic issues:
Geography / Location – where is the skilled nursing facility located? Close to you? Far away? Will you need an Aging Life Care Professional® (ALCP) to help check in on your older family member?
What will be covered by insurance / HMO — Insurance issues can be daunting. An ALCP can help navigate complex insurance guidelines and forms.
Open beds – ensuring there is space at the facility is another initial concern that must be cleared up before you can proceed.
Basic skills / specialties tied to the condition and diagnosis – what skills or specialties does the staff have? Will they be able to address issues you need dealt with for your family member?
Fine-tune screening
…has to do with items that are important to you.
Not everything will be important, so you would want to be clear on what is important to you:
The reputation / record / licensing deficiencies – does the facility have a good reputation? Is it up-to-date on its licenses?
The look / feel / smell of the place – How is the lighting? Is it well-lit and welcoming?  Is there an outdoor space available for residents? Visit at two different times if possible, once during the day, and once during the evening to get a sense of the facility for a fuller perspective.
How is mealtime handled? Are meals served communally or in the patient's room? What would your family member be comfortable with?
The ability to visit / access the patient? Is it convenient, accessible? What are the visiting hours? During the pandemic, are there more stringent requirements?
Staffing – What is the ratio of staff-to-resident? How many patients does the C.N.A. have on the day shifts?  Night shifts?  Who is ultimately responsible for the care?   Director of Nursing? The Administrator? How long have they been in their position? Are they there on-site daily?
Communication – If you have identified a need, who will you be able to speak with? If there is a problem, with whom will you be able to speak? Get their name and phone number.
Roommates – If your family member will be placed with a roommate, how are they matched? If there is a problem, how is that resolved?
Social needs? What is done for the patient's social needs? Are there activity programs tailored to the individual?
Other events – Are religious services accessible? Cultural events?
Medical Doctor – Ask who would be the medical doctor following my family member? How long has s/he been there? What's their bedside manner? Ask "How often will my family member be seen? How does information get communicated with his/her primary care physician and me?"
Interdisciplinary Team Meetings? How often does the team meeting? Is the family invited? How often is the plan reviewed?
Cost – What is covered and what isn't.  Is it certified by Medicare / Medicaid?
A specialty? What does the facility specialize in? – Dementia care?   If so, is it distinct/separated?
Additional Services – If additional services (chemo/dialysis / other specialized rehab) are not provided in-house are needed, how is transportation arranged?
These questions and considerations can help a family get started when considering a skilled nursing facility. However, engaging an Aging Life Care Professional® can help even the savviest family navigate these questions, and can help in the coordination process. Time and money invested in engaging a qualified, certified Aging Life Care Professional® can be a time and money saver in the long run.
FIND AN AGING LIFE CARE EXPERT HERE TODAY: https://www.aginglifecare.org
About the Author: Steven Barlam, MSW, LCSW, CMC. As a Licensed Clinical Social Worker, and after 30 years in the private sector, Steve has assumed the CEO role at JFS Care in Los Angeles, which provides quality eldercare solutions for seniors and their involved families including in-home care, and professional coaching/guidance through Care Management Services. His driving motto is, "It has to be good enough for my mom," as he is all about ensuring quality care experiences for clients and their families. Steve values both tradition and innovation as he leads his team to grow JFS Care's presence to deliver better care solutions in Los Angeles. Steve has been a member of ALCA since 1991, was Board of Director's President in 2003, is currently on the Board of Directors and serves as Co-Chair of the Chapter President's Committee.