ALCA's Corporate Partners are a vital part of the equation that makes the Aging Life Care Association as strong as it is. They offer advice and insights to members via our listserv to help members find solutions for their clients. And members feel confident choosing one for their clients' needs because ALCA's Corporate Partners also adhere to a Standards of Practice and Code of Ethics. One such partner is Harmoney Bookkeeping Company which helps ALCA Members with their finances, so they can focus on their care management practice.
Harmoney owner, and frequent speaker at ALCA events, Deborah Vogt writes: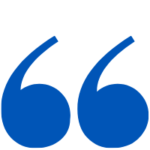 I really, really hate spiders. I recognize they have an important place in the circle of life; however, my preference is to pretend we do not exist in the same world.
Yesterday morning, a spider appeared in my bathroom sink. He wasn't doing any harm, just hanging out enjoying the cool surface of the porcelain. Regardless, I immediately reached for the faucet and washed him down the sink – admittedly feeling a bit bad when I saw the panicked reaction that the rush of water caused the spider. After a few seconds, he was washed away.  That evening, however, he greeted me once again, relaxing in the same exact spot in the sink. I repeated my less than hospitable greeting from earlier in the day and down he went. This morning he was back in the same place. Huh.
Seeing him for the third time gave me pause. Rather than flooding his world yet again, I found myself wondering if his persistence was meant to be taken as a lesson of some sort. I decided to look at the thrice appearing spider as a representation for something unpleasantly persistent but with a greater purpose. But what? Being the owner of a bookkeeping company, there's never a big leap from anything I'm thinking about to bookkeeping.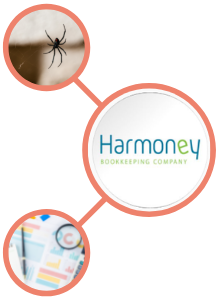 My recoiling at the sight of a spider is very similar to the reaction some business owners have when I suggest we review their financial reports. During my career I've heard the audible catching of one's breath at the suggestion, I've seen crunched up faces, shaking heads and been given dirty looks, and I've been asked to put it off to "another time". Financial reporting is their spider.
Like spiders, the way to appreciate financial reports is to accept that as a business owner, you and your financial reports exist in the same world. Whether you see them or not, they are there and they serve a greater purpose. Financial reports tell an entrepreneur about their financial environment in the same way a spider tells a scientist about the environment it inhabits. Financial reports can protect owners from unexpected ebbs and flows in cash and they can provide a buffer against cash-seeking pests. While their goodness may not be evident to the untrained eye, their value cannot be overstated.
Three ways to squash a Financial Reports phobia:
Realize there is a structure and a purpose to each report. Its purpose is to share with business owners how to understand, grow and profit from their businesses.
Ease into the reports. Get to know them a little at a time by looking at either the Profit & Loss or Balance Sheet monthly. With regular and increased exposure, an owner's comfort and confidence will increase. Owners and their financials become good friends over time.
Believe in the ability to understand and to professionally benefit from financial reports. In no time the reports will become an important part of managing your business.
Business owners new to financial reporting may wish to read the SEC's Beginner Guide to Financial Statements
About the Author: Deborah Vogt is the founder of Harmoney Bookkeeping Company in Wayland, Massachusetts. Debbie presented at the 2021 ALCA National Conference. She and her staff provide monthly bookkeeping services to small and medium-sized businesses around the country including many ALCA members.