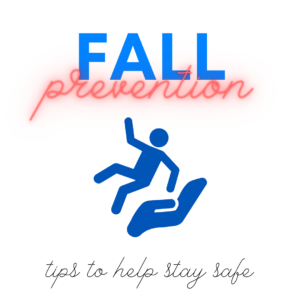 The CDC reports one in four Americans aged 65+ fall each year. The risk of falling will increase with more seniors quarantined at home. Here are some areas you can examine in your home right now to reduce the risk of falls at home.
1. Rugs, Mats, Carpets
You can start your home safety assessment by examining the front door mat with your foot if it begins to move. I recommend that you purchase non-skid padding for the mat or replace it with a non-skid mat to prevent falls. That same philosophy pretty much applies to all the carpets and rugs in the house. If the rug moves, place non-skid padding if not replace them with non-skid mats. Also, in the bathroom, if you don't have a non-skid mat in the bathtub or shower, I advise you to purchase one.
2. Stairs
One of the most common spaces to fall in the home are stairs. You can prevent falls by making sure you have handrails in place if they aren't there. If you do have bars in place, make sure they are sturdy. As we age, our vision tends to decline, making it easier to misread steps. By installing a contrasting non-skid step edge, you can prevent falls. If possible, you can also install a chair lift or move to a one-story home.; this would eliminate the need to utilize steps and reduce the risk of falls.
3. Bathroom
Another common place for falls is in the bathroom. If you need physical assistance in the bathroom, I recommend installing grab bars in the bathroom. If you can't get into the tub, I suggest you purchase a tub bench with a handheld shower. If you can manage to get into the tub but can't stand for a long time, I advise you to buy a shower chair with a handheld shower.
4. Clutter
Another suggestion to prevent falls in the home is to remove all clutter from the floor. You can also protect yourself by securing all loose electrical or cable cords in your home. This can be accomplished by stapling them along a wall or even sheathing them. Any local hardware store will be able to provide advice and assistance. Finally, make sure your floor is completely dry to reduce the risk of slipping and falling.
5. Lights
Adequate lighting in your home is a must. All walking paths should be illuminated properly. Ensure that the lights are not too bright and cause a glare which may impede your ability to see the floor. The use of night lights in the bathroom and bedroom are highly recommended. I prefer smart lights which are voice or noise activated (i.e. via clapping one's hands) because you can avoid fumbling for light switches in the dark.
6. Doctor
When visiting your doctor, make sure you have eyes and ears tested. If you need to use glasses and hearing aids, make sure you have up-to-date prescriptions and devices. Also, contact your provider if you notice any cognitive changes, physical weakness, decline in endurance, impairment of balance, or coordination changes. Finally, note any adverse effects on your body from medications. Please make sure you communicate with your doctor frequently.
A few things to consider around the house to help lower the risk of falls.
This blog post originally appeared here.
About the Author: Jangir Sultan, OTR/L, MS AT, LNHA is the founder and CEO of Patient Advocates of NY. Born in Brooklyn, NY, and raised in England, Jangir's father sent him to live with his grandparents in the Himalayas at the age of 10 when he sought more information about his heritage. Once there, he took pride in learning about his cultural heritage but also took a role in helping to care for his grandparents. With this experience, his passion was ignited, and he returned to the United States, determined to pursue a career related to eldercare. He has worked in various healthcare settings and roles such as OT Manager, Regional Director of Rehabilitation, and Director of Specialty Programs. One theme that has remained consistent is his focus on providing his clients with the best care possible. Hence, he created Patient Advocates of New York with the mission of changing healthcare from what it is to what it should be: prioritizing the client and providing him/her with the highest quality care.