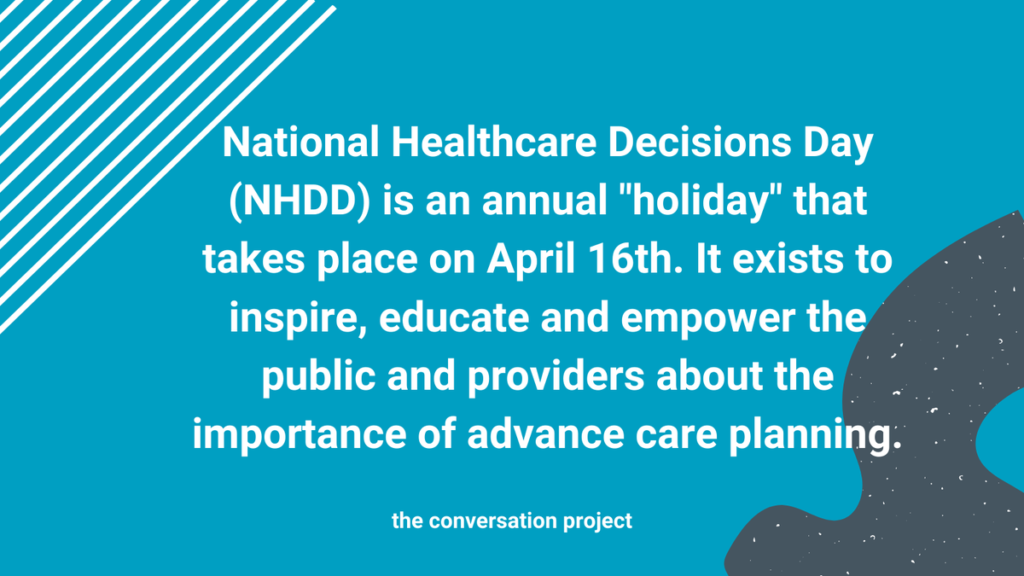 "National Healthcare Decisions Day (NHDD) exists to inspire, educate and empower the public and providers about the importance of advance care planning. NHDD is an initiative to encourage patients to express their wishes regarding healthcare and for providers and facilities to respect those wishes, whatever they may be." – The Conversation Project
Make your healthcare decisions and choices known…start the conversation today
by Tiffany Webster LCSW, CMC – Aging Life Care Association®
Through past efforts of national, state, and community organizations, the importance of advance healthcare decision-making was highlighted and led to the formal designation of April 16th as National Healthcare Decisions Day (NHDD). This day exists to encourage each of us to express our wishes regarding healthcare and to empower all of us to see the importance of advanced care planning.
Do you know what healthcare treatments you would and would not want if you could not speak for yourself? Do other people know what your wishes are? The difference starts with us, we must lead by example. Each of us, need to be sure to have thoughtfully considered and made our own healthcare decisions known.
Why plan ahead? It is important to plan ahead to leave a guide of your wishes for loved ones to follow. This gives loved ones' peace of mind. They do not have to question what you would want regarding your health. By planning ahead fewer families and health care providers will have to struggle with making difficult healthcare decisions in the absence of guidance.
The process of advance care planning seems difficult and time consuming, but if broken into steps it is not as overwhelming.
Start with thoughtful consideration of one's values and learn about treatment options.
Talk with those that are important in your life about what your want at the end of life.
Think about who would uphold what you would want at end of life and follow your wishes. Speak with them about being your Healthcare Agent.
Complete legal documents.
Share documents and wishes with family of choice, friends, healthcare providers, and anyone that you think should know your wishes.
What can we do as Aging Life Care Managers®? As stated above, lead by example and make your healthcare decisions known by completing your own advance care planning. Be an encourager by encouraging those you serve to discuss advance care planning. Be an educator and educate those you serve on advance care planning and link with available resources. Be an advocate and empower those around you and in the community to have needed conversations and start advance care planning. Rally your community by having an event, participate in a podcast or on the radio, or share information about advance care planning on social media.
For additional information on ALCA's standpoint and resources visit aginglifecare.org and read  ALCA's position paper on "Health Care Decision Making."
Additional Resources
This article originally appeared in the ALCA Midwest Chapter's Spring 2022 Newsletter. 
About the author: Tiffany Webster of Private Home Care in St. Louis, MO is a Licensed Clinical Social Worker and Certified Care Manager with over 20 years of experience in the mental health field and geriatrics. She is passionate about improving the care and quality of life for elderly individuals and promoting collaboration between health care providers, community educators, and organizations.
---
Disclaimer: This blog is for informational purposes only and does not constitute, nor is it intended to be a substitute for, professional advice, diagnosis, or treatment. Information on this blog does not necessarily reflect official positions of the Aging Life Care Association® and is provided "as is" without warranty. Always consult with a qualified professional with any particular questions you may have regarding your or a family member's needs.