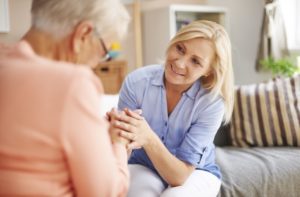 Just as the COVID-19 crisis began gripping the nation, a very determined and creative Aging Life Care Manager, Rachel Hodesh, began scheduling "FaceTime" calls with our caregiver during the caregiver's time with a very special mutual client. In her first call, the senior client spent most of the time talking about this wonderful use of technology. She wanted to see Rachel's house, especially the kitchen. Our client expressed a little concern about how she "looked" during that first call which was exactly what she would have discussed had COVID-19 not been sweeping the country and this was a usual face to face visit. Rachel was able to discuss how her elderly client was feeling about staying at home and they proceeded to make a Passover shopping list. They also were able to catch up on what was happening on a daily basis. Later in the month and repeatedly thereafter, Rachel spent additional technology-based face-time with the Home Helpers caregiver and client as they made Chicken Salad for lunch. They talked about everything from how the elderly client was feeling to what all needed to be done to get ready for Passover as well as what medical appointments were scheduled for April.
What makes this so special? As a Geriatric Care Manager, Rachel is still able to connect with her clients on a weekly basis seeing them in their homes, watching them with their Home Helpers caregivers, and then she is able to share this wonderful moment with their children. Rachel told us that she thoroughly enjoyed watching the interactions with her clients and their caregivers. Rachel said that "The magic of technology does wonders for the client, caregiver, and person on the other end. For those moments, you feel a part of their home and know that they are ok. It does not solve the problem but you show your loved one that you are there, you want to be present and that you miss them." During this unprecedented public health crisis, Rachel's use of technology enables her to stay connected to her senior clients, and most certainly makes them feel connected as well.
We would like to encourage everyone to take the time to reach out and connect with the seniors in their lives. Be creative! The isolation some of our most vulnerable members of society must be feeling can be made just a bit less overwhelming with the help of a little face time.
For more information on Rachel Hodesh, MS, CDP, NHA. This article originally appeared here.