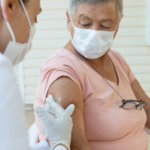 The Delta variant of COVID-19 is spreading with alarming speed among the unvaccinated. As a protection to yourself, and your community,  unvaccinated individuals should get the shot as soon as possible. Immunity can take up to 6 weeks to develop, and we must all do our part in stopping the spread of this virus. In order to remain safe and help prevent the spread while waiting for immunity, the CDC recommends avoiding all public indoor settings and limiting outdoor gatherings where it is difficult to socially distance outdoors or consider mask-wearing in outdoor situations where social distancing is not possible. Wear a mask when congregating in public places indoors, because there is a higher risk for contracting the virus if masks are removed to dine or drink. Monitor symptoms closely, test often, contact trace, and isolate if infected.
What about the vaccinated?  In light of recent breakthrough infections, should vaccinated individuals also be masking up?  In making this decision, a few important questions should be considered:
What is your personal health and risk tolerance?
What are the infection and vaccination rates in your community?
Do you know the vaccinated status of people you are congregating with?
Are you caring for an elderly or immunocompromised individual?
Are there unvaccinated people in your household?
The current consensus among the medical experts is that fully vaccinated people should resume wearing masks indoors in community settings where there are high infectivity rates. This is because the Delta variant is a thousand times more infectious than the original Covid-19 strain and while the vaccine will protect against serious disease and illness, there is a small risk of breakthrough infections because of the increased disease spread happening all over the US right now. Once we can get our vaccination rates up to 80% across the nation, infectivity rates should decrease dramatically, and we will be able to relax the mask guidelines and resume a normal life providing no future more lethal variants emerge.
So, let's help each other out and do our best to deal with Delta and stop the spread of COVID. If you are vaccinated, be a positive role model and continue to listen to and encourage unvaccinated friends and family to get the jab. Share your positive experiences, help dispel fears and let them know you care for their well-being. If you are not yet vaccinated, examine your reasons for not getting the shot. Is your decision based on unbiased scientific information or the biased views and posts of similar folks who are also hesitant? For example, if you broke your arm tomorrow, you would seek the advice of medical professionals–not your newest Facebook friend. Remember, that your decision on getting vaccinated does not just affect your own health and well-being, it affects the health of everyone around you but most especially children who are not yet eligible for the vaccine and who are extremely vulnerable to the Delta variant. They are counting on the adults around them to keep them safe and protect them by making a choice that is bigger than themselves – a choice to get vaccinated.
This article originally appeared here.
About the Author: Anne C. Sansevero, RN, MA, GNP, CCM is the founder and CEO of HealthSense LLC, an Aging Life Care management consulting practice. She is a master's prepared geriatric nurse practitioner, and a seasoned nursing professional with over 30 years of experience in the field. Anne has a sub-specialty in neurological disorders and is well versed in all aspects of geriatric nursing. She has particular expertise with communication disorders relating to stroke and dementia and has developed a number of innovative nursing assessment tools and standards to improve the nursing care for frail elders. Anne is a member of the Aging Life Care Association® (ALCA) and Fellow of the Aging Life Care Leadership Academy. She is currently serving on the board of the ALCA, and is Vice President of the New York Chapter. In addition, Anne is a member of the American Academy of Nurse Practitioners and the Nurse Practitioners of New York. Anne is a registered nurse, certified care manager, and a master's prepared geriatric nurse practitioner.
"Born in Ireland, I come from a strong medical family of physicians and nurses. I was naturally drawn to a career in health care where you can make a real difference in the lives of others. In the 1980s, I was recruited for a nursing career opportunity in the United States and fell in love with the energy and optimism that is part of this country's cultural DNA. In the acute care work setting, I became very attuned to how stressful hospitalization can be for older, frail adults. I found my calling as a nurse practitioner and Aging Life Care Professional while advocating for the elderly and working to improve their quality of life and to avoid hospitalizations. I have a deep appreciation for the wisdom and resilience that I see in my older clients and feel grateful to be able to contribute to helping them and their families lead happier lives." "