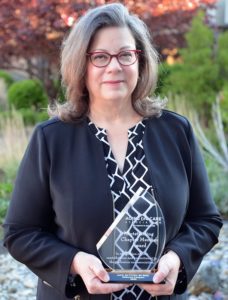 This week we are spotlighting one of our members and recipient of the ALCA Midwest Chapter Outstanding Member Award for 2020 – Ann Sutton Burke.
Tell us about your current practice?
The practice I manage is CareLink, Your Experts in Aging based in Cincinnati Ohio. It is part of a non-profit agency, Jewish Family Service (JFS) of the Cincinnati area. At JFS I also wear the hat of Vice President, Client Services. Not only do we offer care management in our private practice but also to clients who have financial hardship via funding from grants, contracts and donations. Very rewarding work!
How long have you been a member of the ALCA? What is your best experience thus far?
I have been a member since 2010 and by far my best experience is meeting other Aging Life Care Professionals. If you know me, you have probably heard me say when I went to my first national conference I had found my people. I also served on the Board of the Midwest Chapter. I encourage others to consider doing so, as it was a great way to get to know other ALCA members at a more personal level and give back. Currently I chair the national public policy committee and again have had amazing experiences working alongside other members on important issues to our work. I also have to give a shout out to my local unit with whose members I have had great camaraderie and support.
Tell us about something you do in your business that really helps you get you results? What is an area of running your practice where you want to grow your expertise?
One of strategic planning pillars we have is "Everyone's a VIP". I believe in the goal of exceptional customer service, which begins by listening to your clients and families.
As a nonprofit, I must deal with a higher overhead so I always value business acumen particularly in how others run their successful practices. Any ideas to make our practice as efficient as possible in how we do business is useful to me.
Tell us about a best clinical practice used in your business? What do you want to learn more about from a clinical perspective?
We also offer counseling or therapy to our clients. I feel care management and counseling are good complimentary services.
My particular interest is ageism. I want to be sure I continually learn how to allow older adults to retain as much decision making power over their circumstances as possible. Besides, we are all going to be old one day ourselves, right?
Marketing, sales, and branding are so important to a successful practice. What is your best tip? What is something you thought would work but just did not get the results you wanted?
Relationship building is the most important to getting new business in my opinion. As an introvert by nature, I often channel the 'relating to others' strength I have into doing marketing. Again, the word listen is important here as well as what problem you can solve of that referral source.
I recall a meeting some other ALCA members and I had with the head of a local aging organization. I thought it would be an easy meeting and this executive would understand what we did right out of the gate. She did not. It taught me never assume people will understand what we do. Communicate a clear compelling vison.
Conferences both the Midwest and National are important opportunities for members. What is your favorite conference take away or memory?
My favorite conference was my first national in Philly. I was amazed at how warm and welcoming everyone was but even more so how eager ALCA members were to share about what worked or did not in their business practices.
What is the dream for your practice?
Well, I am closer to retirement than not, so setting up our practice to be successful after I retire is important to me. I still feel I have much to accomplish with ALCA and with the practice so I'm not going anywhere soon!
What's your favorite moment of your running your practice so far?
Honestly, it is when I have talked to a family and know I have helped them. They are often so grateful. It really makes my day, month, and year!
How did you get into Aging Life Care™?
The former manager of our practice was a member so when she moved out of state, I thought it was important to join. So glad I did.
And for fun what is your "guilty pleasure" in life: What can you not live without?
Well, I might deny it but reality competition shows: cooking, dancing, singing etc. That is my way to escape.
Anything else you'd like the Midwest Chapter or membership at large to know about you, your practice or our association?
I want to thank the Chapter for the award for Outstanding Member. It was quite a shock and very humbling. Normally it is awarded at the National conference but with the pandemic, it was virtual. It was a beautiful day and so I had stopped at a park on the way home to listen to the presentation. I'm sure the folks in the park were wondering why I was choked up! It means a lot as the Board and Chapter members are folks I admire and look up to.
This article originally appeared in the ALCA Midwest Chapter Member newsletter Issue No. 69 – Summer 2021.